Shoulder Workouts
Shoulder workouts, did you know there are a lot more of them that you can do other than pushups? Here are some of my favorites.
Military Press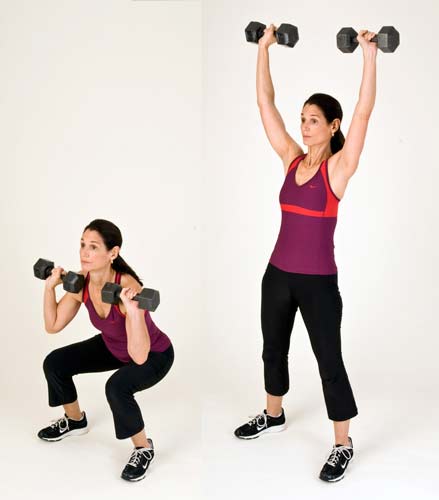 The military press is great for working out your shoulders. In addition, if you work on your posture, hold your abs in, and do a squat while you're lifting your arms up, it will work out your abs and legs as well.
You can find an illustration of the military press on this article on weight training for runners.
Frontal & Side Raises
I learned about this workout from a friend of mine who is a boxer. It is great for strengthening and defining your shoulders.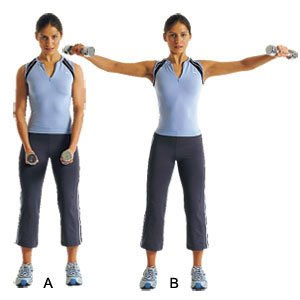 Stand with your feet together and your arms to your side.
Now lift your arms up and to the side so that you are standing in the shape of a cross. Your palms should be facing down. Hold this for 30 seconds to two minutes (depending on how long you have been doing this.
Now stay in this position, but turn your hands so that your palms are facing up and hold this for 30 secons - 2 minutes.
That covers the side raises. Now to do the frontal raises, bring your arms straight out in fron of you, your palms facing down and hold this for 30 seconds - 2 minutes.
Once you get the hang of these shoulder workouts, you can take it up a level by holding a weight in your hands while you do these exercises. Start with a very small weight and as you get stronger, you can build from there.
Pullups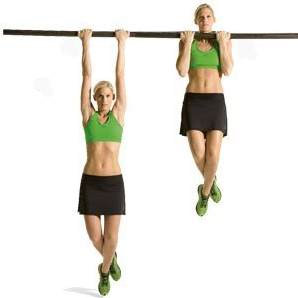 Pullups are kind of like an adult version of the monkey bars game that you used to play on the playground. The idea is that you hold onto a bar above your head and then use your arms to pullup your whole body. Don't worry if you can't pull yourself up at first. Just keep at it and you will in time.
Modified Pushups
If you already know how to do the regular pushup, but can't seem to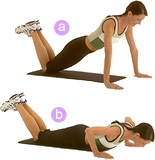 manage to get in even one, try going down on your knees and doing apushup from there.
Another option for a modified pushup is to lean against something such as a desk, a chair, a bench or a rebounder and push yourself up from there. The lower the surface you are pushing yourself up from, theharder these shoulder workouts.