Inspiring Running Woman Interview Series
Stacy: Beginning runner and Half Marathoner!
Running woman, meet inspiring running mom of the month, Stacy.
I have known Stacy since I was a little girl. Our parents were great friends and Stacy her sister my sister and I were all great friends. But as life goes we all lost touch over time, then with facebook we found each other again (gotta love that facebook!).
None of us were runners when we were younger and you can imagine how excited I was when I saw Stacy post that she had signed up to run the Disney Marathon in 2012. She was running for TNT and asked for donations. As it turns out I was so excited I was the first to donate.
I am so proud and inspired by my fiend that I wanted to interview her and share her story with all of you so she could inspire you too!
Why did you sign up for a race with TNT?
I got a post card in the mail and thought why not! I had been getting them for years but this time it just felt right. I had asked my husband to join me but he just accused me of trying to kill him for the insurance money! LOL! Oh well.

You were not a runner when you signed up, most people start with a 5k, why did you decide to do a half Marathon?
I actually originally planned on doing the full marathon. I really didn't know anything about running or what I was getting myself into and never dreamed of doing any type of event previous to this. I eventually realized I was crazy to try for the full as training began and cut back to the half. I didn't feel like I was training enough on my own and was very nervous being my first event EVER!

Before you signed up for the race, were you working out on a regular basis, or was this all a new thing for you?
I had worked out in the past but I had not done it regularly in awhile. The thought of running was definitely new!

How did you manage work and home with your training? Was your family supportive of you doing this?
It was a struggle, especially in the beginning. My husband didn't always like me coming home late after work to get in a run but he adjusted too. I took the kids out with me many times so it was good for them too. For the most part they were all supportive. Hubby even bought me my first pair of official running shoes!

When the training and stress got bad, what kept you going?
Knowing that I was doing it for a great cause. The stories from the survivors, as well as the stories about those that lost their battle with cancer was very inspiring and motivating. I also set it as my personal goal to finish the half and I usually push myself when I set it in my mind do something.

Was the fund-raising aspect hard? What were some of the things you did to raise the money for TNT?
Fund-raising was really hard! I hosted a carnival that was rained out the first time and when it was rescheduled no one showed up! :P I participated in group fun raisers such as bake sales and car washes but I didn't actually take any money from them because there were other team members that were even further behind then me. I got support from a team mentor that felt bad about my carnival and transferred $250.00 from her fund-raising to my account and I won $100.00 from a team raffle but most of the money was raised from personal pleas. I was very surprised by who did and did not donate. There were family and friends that I thought for sure would support me and never stepped up but I did get donations from my daughter's school principal and $500.00 from an airport tenant that I have only met twice! You just never know who will actually come through on these things!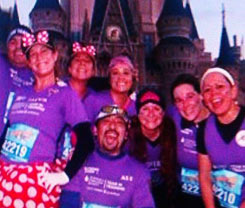 What was the best part of this whole experience?
The best part of this experience was the sense of belonging and the support from the team mates and the honored team mates. Knowing we were having fun but doing it for a great cause. The crowds at the event were amazing too!

Would you do another event with TNT? Why or why not?
Before the actual event I swore I would not do it through TNT again because of the fund-raising but after the whole amazing weekend experience I definitely plan on doing the full marathon with them next year! I'll let you know when that fund-raising starts! ;)

Do you have any other races coming up that you are doing? Do you now have the running bug?
I am hoping to do the Diva Half in Myrtle Beach with my sisters and some of the RMM and I am definitely planning on doing the Disney Full next year. I have not done any events since January, mostly because of scheduling. I do enjoy running but I definitely need to get back on a regular schedule. I better start soon being that Diva is right around the corner!
What was your training schedule like and would you change anything in your training schedule next time around?

I trained with my TNT team doing the intervals, 3 min run to 1 min walk. For my training schedule I made sure I did every, very early morning group run/walk that got longer and longer each week :P During the week I would shoot for 2-3 short run/walks, usually 3-5 miles and some occasional cross training with home videos or bike riding. Unfortunately that did not always happen and that is why I changed to the half. I would definitely not recommend my lax method of training. I definitely need to step it up with more regularity if I want to finish the Disney full marathon next year! :)