Do Nursing Sports Bras Exist?
Nursing sports bras can make sports bra shopping a bit of a challenge.
The dilemna of finding a good nursing running bra was actually THE inspiration behind running-mom.com and thankfully, they have come a long way since I started this site.
My First Nursing Running Bra
The first nursing sports bra I purchased cost me $60. It's incredibly well made. Two years later, it's survived way too many overlooked minutes in the dryer and it holds my boobs in place really well.
The problem with it was well, it holds my boobs in place like a Victorian era corset. There is no bouncing, but no breathing either.
It's not very convenient either, the way it doubled as a nursing bra is, it has about a dozen hook and eyes up the front which take a lot of effort and maneuvering to close.
Nursing in a Regular Sports Bra
After that bra, I decided that not everything in life can be as good at multi-tasking as us running moms. Asking a bra to be made for nursing and a great sports bra may just be too much to ask.
So I went back to running in my favorite sports bra from before I started nursing.
To nurse, I would just pull one of the straps down my arm. I actually got good enough that I could just pull the fabric down under my breast.
My Favorite Sports Bra
As a runner who needs a lot of support in the chest area (I vary between 34C and 36DD) the Champion Double Dry Seamless
is my all time favorite sports bra.
It offers great support, has hook and eye closure in the back, and it is made of moisture wicking fabric that pulls the sweat away from the skin and therefore helps prevent chafing. Most importantly, it's not too expensive!
Actually I like the way I look in this bra so much I wear it under my dress clothes to give my boobs a nice lift.
The Perfect Running Sports Bra Finally Gets Invented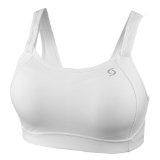 What do you know, as soon as I decide to wean my son, I finally find the perfect nursing sports bra. Moving comfort
came out with it.
I don't even think they were thinking of it being a nursing bra, they just put velcro on the straps to make them adjustable and wallah, the perfect nursing sports bra. Even though I'm done nursing, it's still a great running bra.
More Nursing Sports Bras Tips
Here is a list of five things to look for in a sports bra.
You can find more running bra reviews here and if you have a great nursping sports bra, we'd love to hear about it.
More nursing running bra recommendations.
Here are some tips for breastfeeding in public.
Tips on preventing chafing.