Fit Mom Tips
Running With Kids
Fit mom, it can be a challenge to find creative ways to run when you have kids.
Here are some options.
Getting up before or at the crack of dawn can be challenging especially after you've been up with the kids all hours of the night, but the hardest part is getting out of bed and it is totally worht it in order to get in a good solo run.
Prepare as much as you can the night before, get the coffee ready, the iPod charged, the clothes out, the ice-cold water in the frige so you can get out the door faster.
What to eat before a morning run? If I'm only running 3-4 miles, I just drink coffee and take some water with me. If I'm running longer distances, a piece of toast with peanut butter and banana or oatmeal are great pre-run breakfasts.
Not all of us fit moms have a schedule where we know exactly when we can and can't count on our partners. I've learned to be flexible.
Something that I've always struggled with is my baby's dad will walk in the door just after I ate a heavy lunch and say, "I'm here. You want to go for a run now?" Got to love it!
I've learned to use his spontaneity as a way to help me eat healthier. Now I eat light meals throughout the day.
Nothing heavier than a salad or piece of toast with a little peanut butter and banana until after my run. That way my stomach is ready to handle a run any time that I can fit it in. And I always have a pot of coffee ready if I need a little extra boost to get me strated.
Another great way to fit in your runs is to break them up. You can break up your runs in a single day, one run in the morning and one run in the evening.
Or if you are training for a long distance race and need to get in a long run, you can break it up into two semi-long runs, two days in a row. Just try to get them in as close together as possible in order to best mimic a long run.
Gym with daycare has been a lifesavor for me! My son loves to go to the gym daycare and play with the other kids, "new toys" and just have a change of scenery. And I LOVE being able to get in a good workout!
The gym has taken on a whole new meaning for me since I became a fit mom. I know longer think, "I have to go to the gym and get in a workout." Rather I think something like this, "I need a time out so I think I'll go the gym!"
Another alternative to joining a gym is buying a piece of home gym equipment. Treadmills can be quite expensive but if you're a hardcore runner, it can be totally worth it. Here are some home treadmill reviews.
And here are some altertnative at home workout ideas. My favorite home workout that I enjoy doing with my toddler is rebounding.
Run with a Jogging Stroller
If you have a small child, a baby jogging stroller is a must have! Here are some tips for finding and running with a jogging stroller.
Have Your Kid Ride a Bike or Scooter Next to You
I see moms in the park all the time running with their kid on a bike or scooter next to them. I'll hear the mom say, "Stop at the next light and I'll meet you there!"
Of course a kid has to be old enough to follow instructions in order to do this. Mine is not there yet, but it's something I'm looking forward to!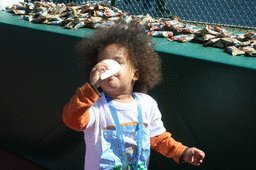 Get Your Kids To Run With You
My son is two now and most of the time we still run with the jogging stroller, but for short distances he runs with me and I'm surprised at how fast he can go!
When we're running with the jogger, I'll run to a field, let him get in a good run, then put him back in the stroller and finish my run.
Here's a picture of him fueling up after a race of his own.
How Does a Fit Mom Get It All Done?
Finding balance is a life-long quest for most of us. Here are some tips from other fit moms on how they manage to get it all done.