Nursing Sports Bras
Nursing sports bras have a big job to do for us running moms. Here are some of our favorites.
Champion Double Dry Seamless Is Great For Keeping Big Boobs In Place
I ran and nursed in the Champion Double Dry Seamless Full Support Sports Bra
for years and it was so supportive and comfortable.
It's not a nursing bra, but it's great for holding big, full boobs in place.
Champion does not make a good nursing sports bra as far as I know. They do make a sports bra that zips in the front but it hasn't gotten good reviews.
But I easily got around this for the two years that I nursed and ran by pulling the strap down one arm or just moving the fabric down under one of my boobs in order to nurse.
It has moisture wicking fabric, is very supportive, lasted two years through many wearings and washings and best of all, sells for a decent price.
Fiona Moving Comfort
I found this Moving Comfort Fiona Bra
right after I stopped nursing my son and all I could think was, "If only they had this while I was nursing!"
The velcro which makes the straps adjustable also makes it so convenient to just undo one strap and nurse.
It is also very suportive for my Double DD's, the fabric feels nice and is moisture wicking. It comes down low enough to show a little cleavage and yet it is still incredibly supportive and best of all, it comes in some really sexy colors.
This is my new favorite bra!
Enell Sports Bra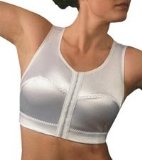 The Enell Sports Bra
is the Bruks truck of nursing sports bras. It will hold your boobs in place like no other. I nursed and ran in it for the first year after my baby was born.
The downside is, it is so tight it starts to hurt your back and shoulders. The fabric is made out of nylon, which is good that it's not cotton, but it's not the moisture wicking fabric that lets your skin breath either. And the dozen or so hook and eyes up the front don't make it very convenient to open and close.
However the fabric is of incredible quality and will last and last (mine has lasted 2 years so far and I keep forgetting to not put it in the dryer) and it is super supportive.
If you've tried every bra and nothing will hold your boobs in place while you run, this bra is the one for you.
CW-X Xtra Support Front Zip Running Bra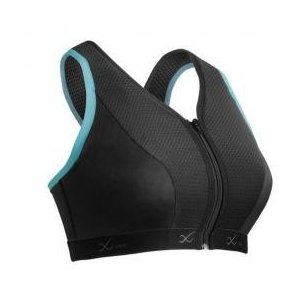 I have not yet worn the CW-X Xtra Support Zip Running Bra
but I have heard great things about it from other big-boobed running moms who need a lot of support.
It seems to have what the Enell doesn't in that it opens in the front making it convenient for nursing only it had an easy zipper instead of having to deal with hook and eyes.
More Sports Bra Reviews
You can check out more bra reviews from other running moms of all sizes or share your own here.