Instep Jogging Stroller
Review by Anne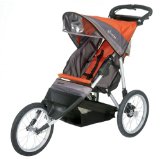 Instep jogging stroller reviewed. In addition to training with her instep jogging stroller, Anne managed to raise over $5000 for the Leukemia and Lymphoma Society while training for the Seattle Rock N Roll Half Marathon.
If you're main goal is affordability or if you are looking for a jogging stroller that is good for a toddler and easy enough to travel with, this stroller review might be of interest to you.
Stroller Review
Overall, the Instep jogging stroller seems to be a good middle-of-the-line solution for someone who is choosing a jogging stroller for serious running, but maybe not daily use.
It's definitely a true jogging stroller, and not something that you would want to buy as an "everyday" stroller. The fixed front wheel makes steering VERY difficult at first. It took me about 2 miles of running (in town, on sidewalks) before I felt more comfortable with how to turn it.
It has a great large canopy to shield your child from the sun, and a large basket underneath (although the basket on mine inverts unless you place something in it to hold it down).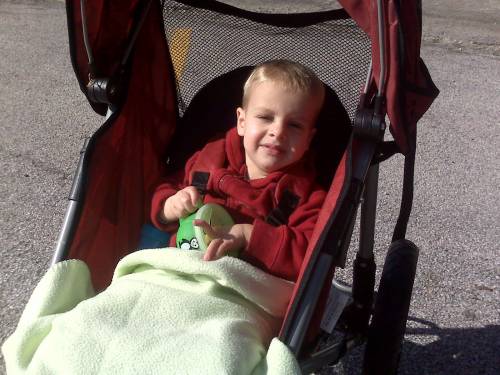 The "parent tray" is really not that usable, it doesn't have any covered compartments, so anything you put in there tends to bounce around. I don't think a water bottle or cup would stay in there, really. But it does hold my keys and cell phone, as long as I don't mind them bouncing a bit.
It does fold up fairly compactly for a stroller. As large as it is unfolded, it takes up the same amount of room as our Graco DuoGlider non-jogging stroller. I have an SUV so I have no problems fitting it in.
Assembly was also fairly easy, considering how complicated it looks. The instructions did leave something to be desired, but having seen instructions for other InStep models, I think they may have improved that with the more recent models.
I have a 23 pound 2 year old, and he fits into the seat fairly nicely, although the waist and chest straps still feel pretty loose on him.
If you are choosing a jogging stroller to run with an infant, I don't think the InStep would work as-is. But, maybe with an insert, or with more time spent adjusting the straps, it might work for an older infant. I wouldn't use this with a newborn, though.
Interested in buying this stroller? Click here to check out Amazon.com's current price.