Gabrialla Maternity Support Belt
Review by Running Mom, Bethany
Maternity Support Belt Reviewed. I love my Gabrialla support belt!
I just came back from my very first run with it. I decided to keep the run short, 3.5 miles, so that I could test the waters easily. But by the end of it, I felt like I could have gone for longer. I was so comfortable.
When I was running without the maternity support belt, I felt like my uterus dropped on top of my bladder and remained there for the remainder of the run. I felt like I had to seriously pee every five minutes. I also felt like my uterus was not safe or supported. I didn't like the flopping sensation I had, and I'm not even that far along! In short, it just did not feel safe to me. So I decided to order the Gabriella maternity support belt and give it a shot. Until it arrived, I would stick to walking.
Like I said, today was my first run with the belt, and I have to say, this is without a doubt the best forty bucks I have ever spent. The first mile was a little awkward, as I tried to adjust the belt to what felt comfortable, but once I figured it out, I was off like a shot.
I ran faster and better. I felt like I was back to my normal running self. I felt like I could push myself harder without hurting the baby. And the best part is I didn't feel the urge to pee at all!
My advice for those of you who already ordered yours or are thinking about it is this.
All the reviews from runners that I read about this belt suggested wearing a tank top under it, so as to prevent chafing. They are correct. Wear the tank top. Then, if you are going to wear a tank top, wear one that is sweat wicking and cool, so that if you wear a shirt over it, you won't overheat. However, plan on wearing layers, because I had to strip down after a mile and a half, the tank top and the long sleeve shirt were just too much.
When you order the belt, I would suggest ordering it a size bigger, as they tend to run a little small, and you'll need room for expansion.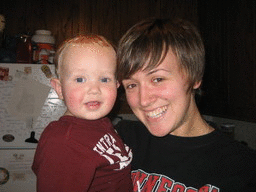 I ordered the medium, but I can already tell I will eventually have to order the large. I also read this suggestion in other reviews from runners.
But it is definitely, DEFINITELY worth the money! I feel like I can get back out there and run safely again! LOVE IT!!
Click here
to purchase the Gabrialla maternity support belt.
This review was posted by Bethany. You can check out her blog here.