Egg Muffins - Easy Protein Snack For After A Run
by Laura
(Miami)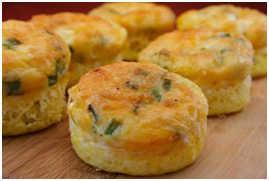 Ingredients




2 eggs


1-2 cups grated cheddar cheese


3 green onions, diced small


chopped veggies such as blanched broccoli, red pepper, zucchini, mushrooms, etc.


diced Canadian bacon, lean ham, or crumbled cooked turkey sausage

Directions
Preheat oven to 375 F. Use 12-muffin-size pan. Spray with nonstick spray.
Mix all ingredients together in a large bowl, and then fill the muffin cups ¾ way full. Bake 25-35 minutes until muffins have risen and are slightly browned and set.
Muffins will keep at least a week in the refrigerator without freezing. Egg muffins can be frozen and reheated.