Michelle Speers
by Jennifer Anderson
(Lake Forest, CA)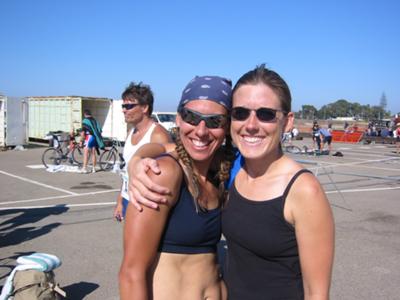 Michelle (left) and me at her first 1/2 Ironman in 2003
My cousin, Michelle, is like a sister to me, and the most incredible running mom I know. As an ACE certified trainer for over 20 years, fitness was a part of her life long before having children.

Michelle has run close to 30 marathons, over a dozen 50-milers, countless 5K's/10K's and half marathons, at least 20 sprint and Olympic triathlons, and several half Ironmans.

She currently teaches seven group fitness classes, inspiring hundreds of people every week through indoor cycling, muscle conditioning and running.

She qualified for the Boston Marathon on 5/15/2010 on an extremely difficult marathon course. And she does all this with a 16 year old daughter and 9 year old son.

Her approach to parenting is much like long-distance running: embrace the peaks and valleys, keep your goals in sight and enjoy the journey.

She lives by the mantra "Earn it," knowing that like running, parenting means investing in what you love and cherish. She is patient, determined, and focused in both aspects of her life.

She has constant support of her husband (who is also an ultrarunner) and children, which certainly creates balance in her life as a mom and a parent.

Michelle has been an inspiration to me during my entire life, but more recently as a runner. She has been alongside me during my most cherished races, and my most challenging. She knows when to push me, and when to let me push myself.

Her ability to encourage and motivate has made her a leader and coach to new and established runners alike.

For Michelle, running fuels her as a parent just as much as parenting fuels her as a runner.