Stretches for Runners

There are a number of great stretches for runners that will enhance your running experience and your overall fitness and help you avoid injury or help you recover if you have been injured.
It is great to get some support if you can, a stretching partner, a trainer, or take a stretching class. Other great ways to stretch are yoga and pilates.
But it is not necessary to have any of this extra support or any equipment to get in a good stretch and regardless of what kind of support you have, it is very important to stretch.
The best times to stretch are at the beginning of your runs, but only after you've gotten in a mile or about ten minutes of a warm up, immediately after your run, or set aside a day for stretching. If you have a particular area that is causing you a lot of pain, pay special attention to that area when you stretch it.
Here are some samples and explanations of some good stretches that I have found to be very effective.
Calve and Shin Stretches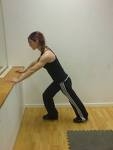 A great way to get in a good calve stretch is to stand on the edge of a stair so that only your toes are on the stair. Then place one hand on the banister for balance and lower the balls of your feet so they are lower than the stair. Then to get in a good shin stretch you can stand on your tip toes.
Another way to get in a good calve stretch is shown in the photo to the right.
Hip Stretches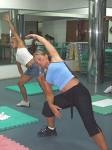 Quad Stretches


Stretching with the help of a Stretch Band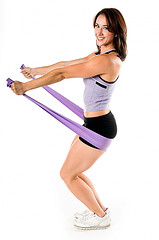 More Great Stretches
Observe what other runners are doing around you. I have gotten very helpful stretching advice just by watching other runners. And listen to your body. Stretching is one of the most natural things. My baby has been stretching since he was born - it's so cute!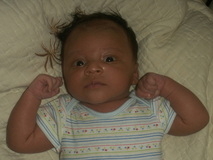 Here are a few more pictures of helpful stretches:





Return from Stretches for Runners to Total Fitness

Return from Stretches for Runners to Running-Mom HomePage