Half Marathon Running:
A Fun Achievable Goal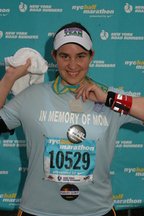 Half marathon running is my favorite type of running event. Its not quite as harrowing as the full marathon and yet it is a huge achievement.
I usually run at least one half while I'm training for a full marathon. It kind of marks the point where I know I need to get serious about my training. But not to be taken lightly, the half marathon (13.1 miles) is no joke.
I will be providing some training programs for the beginner and intermediate runner. Most coaches recommend you train for 12 weeks, but runners usually train anywhere from 8-18 for a half marathon.

Here is an 8 week schedule I've put together. Note that this is for an intermediate runner or an advanced-beginner runner. It assumes that you have already done some running, and can run 4-6 miles comfortably. Also, please pay attention to the notes below the schedule. They are just as, if not more, important than the schedule itself.
Here are a few important tips you want to keep in mind while training for a half marathon.


---