Dear Running Mom,



Thanks for subscribing to Inspiring Running Moms.

June 28, 2012
Issue #10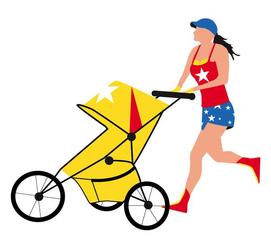 In This Issue
1) Running Moms Coming to Philly July 14-15
2) Meet Stacy

1) Running Moms Coming to Philly July 14-15
We are coming to Philly on July 14 - 15 to run the Lone Ranger, a 24 hour race in Fairmount Park.
We have been training for this race all year and are so excited! I will see how many miles I can run in 24 hours and Tracey and a few other running moms are coming to crew and pace.
We will be setting up somewhere in the camp area in front of Lloyd hall. If you are in the area, we would love to meet you. Look for the big "Running Moms" sign at the camp-sight.
Please contact us here and let us know if you plan on coming out for the Back on My Feet 20 in 24 Ultra Marathon and Relay race or if you just plan on being in the area and want to stop by. We would love to meet you!

2) Meet Stacy
Stacy is our running mom hero this month. She just completed her first half marathon, while fundraising to help find a cure for cancer. Congratulations Stacy!

Click here to read about what makes Stacy so inspiring.

Happy Running!
Anna & Tracey
www.running-mom.com