Dear Running Mom,



Thanks for subscribing to Inspiring Running Moms.

October 29, 2011
Issue #8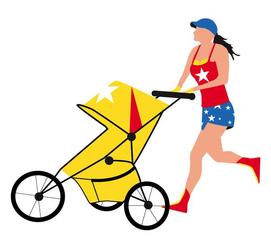 In This Issue
1) How to Contact Us
2) Halloween Costume Contest / Giveaway
3) Running in the Cold Rain
4) Interview with Inspiring Running Mom, Becky
1) How to Contact Us
Please do not reply to this email. Because of a spam filter that I haven't figured out how to customize, we don't get those emails. But we love to hear from you! So contact us here.

2) Halloween Costume Contest / Giveaway
We are having a halloween costume contest / giveaway. The rules are simple. Go to https://www.running-mom.com/runningcostumes.html by 11/1/11 and submit a picture of you in your halloween running costume.
Then come back between 11/2 and 11/15/11 and vote on your favorite costume. Whoever gets the most votes wins a super running mom tshirt.

3) Running in the Cold Rain
How was the weather for you today?
We had sleet, rain and snow that actually stuck! I woke up thinking I had overslept, missed Halloween and Thanksgiving and gone straight to Christmas.
But at least it's good for weight training.

Here are sone tips on running in the cold rain.

4) Meet Inspiring Running Mom, Becky
Becky is an inspiring running mom of two young boys. In the following interview, she shares with us what she loves about running. She has also shared with us some of her beautiful scenery, so you can dream about that while you run in the ice out there!

Check it out here.

Happy Halloween!
Anna & Tracey
www.running-mom.com