Dear Running Mom,



Thanks for subscribing to Inspiring Running Moms.

April 2, 2010
Issue #6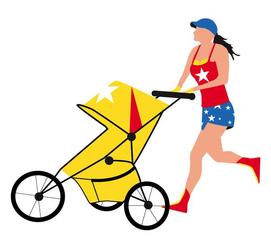 In This Issue
1) Little Runners
2) Ultra Running
3) Inspiring Mom of the Month, Ultra Running-Mom, Tara
4) Share Your Stories
1) Happy Easter / Little Runners
Hope you enjoy your Easter egg hunts with your little ones. Speaking of the little ones, any of them running yet? Contact us here with your little ones' running stories.
2) Ultra Running
I have recently become interested in ultra running. I guess once you've completed a marathon distance, what else is there to do other than try to run the next one faster or run an even longer distance!
I will be running my first ultra marathon (30 miles) on May 23 for my 30th birthday.
I'm really excited about this event. I even have some running moms coming in from out of town for this event. You can follow my training on my blog.
3) Inspiring Mom of the Month, Ultra Running-Mom, Tara
Our inspiring running mom of the month is Tara, ultra running mom who just completed her first 100 mile ultra on February 6 and is already training to run her second on July 17, 2010.
It is not just her determination and amazing strength that makes her so inspiring but the fact that she always has a piece of motivation to share with other running moms.

Check out her story here.
4) Share Your Stories
Do you have a running story? Well here is the place to share your running stories. Come on you know you want to! And we want to hear it! ;-)

Share your running story here.
Enjoy and happy running!
Anna Stein
www.running-mom.com